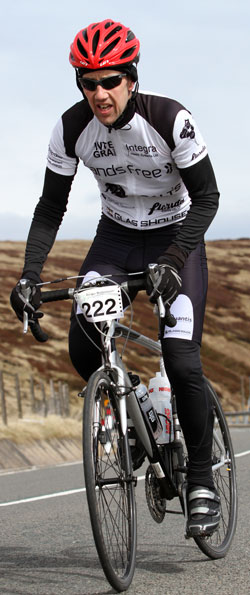 As we mentioned back in October, Handsfree have sponsored Bob Spencer, Head of Digital Services, and his brother to complete The Artemis Great Kindrochit Quadrathlon in July of this year.
In order to raise money for the two chosen charities, Mary's Meals and Mercy Corps, the brothers have found corporate sponsors for their challenge clothing and, as Handsfree were the first to offer their support they got their logo pride of place, emblazoned across the front of their top.
Training for the event has been going well and the clothing is now in use. Here you can see Bob atop Holme Moss (an iconic road climb to be used in the 2014 Tour de France) during the Brian Robinson challenge ride which he used as part of his training regime.
The road bike challenge, a 75 mile, 7,500 ft of climbing endurance event meant the Handsfree logo was seen across Yorkshire, Derbyshire and Lancashire by competitors and spectators alike.
If you would like to sponsor The Spencers in their quest for glory please visit their team sponsorship page or contact Bob for corporate sponsorship opprotunities.