The current Direct Vision Standard (DVS) requirements are under review, with a series of changes scheduled to come into play in October of 2024. This will affect all Heavy Goods Vehicles (HGVs) exceeding 12 tonnes gross vehicle weight, operating in Greater London and its surrounding areas.
What is DVS?
Launched in 2019 by Transport for London (TfL), DVS introduced a mandated level of safe system improvements for all HGVs over 12 tonnes entering and operating within Greater London.
This scheme utilises a star rating system to categorise and assess the level of safety improvements, either fitted by the manufacturer or retrofitted. With a minimum requirement of one star, the rating system is based on the driver's direct line of vision from the cab. The star rating indicates the extent of the driver's visibility and the reduction of blind spots, thereby promoting safer interactions with vulnerable road users.
The scheme has since proven to be extremely effective in protecting pedestrians, cyclists, and motorists from collisions with HGVs. Fatal collisions with vulnerable road users, where the vision of the HGV driver has been noted as a contributing factor, have reduced by 75% from 12 to 3 (from 2018 to 2023).
What is the Progressive Safe System?
In-line with the Mayor of London's Vision Zero action plan, dedicated to eliminating death and serious injury from London's transport network by 2041, the existing DVS requirements are currently under review.
TfL will be introducing a 'Progressive Safe System' (PSS) which will be applicable to all HGVs with a rating of less than 3 stars. This development will be reflective of technological advancements in vehicle safety since the initial establishment of DVS. These new changes are currently set to come into play in October 2024 (an additional three-month grace period ending in January 2025 is also currently being discussed).
 Affecting roughly 165,000 vehicles, the PSS will consist of the following:
Camera Monitoring Systems (CMS) – Now allows for the use of both mirrors and mirror-replacement CMS. CMS must now eliminate all remaining blind spots on the passenger side.
Sensors (or an equivalent to*) – Sensors must not activate when detecting roadside furniture or stationary vehicles. Comprehensive coverage along the nearside of rigid vehicles is required. For articulated trailers, the front tractor unit must be equipped with sensors (this is advisory for trailers).
Moving Off Information Systems (MOIS) – Sensors are required at the front of the vehicle.
Audio Warnings – Required for all vehicles, including left-hand drive.
Warning Signage – Requirements are unchanged.
Sideguards – Requirements are unchanged.
*Following the feedback received during the April 2023 consultation, TfL have recently provided additional information stating that sensors are no longer mandatory, if exchanged with emerging technology that surpasses its capabilities (such as AI Cameras).
Why Consider AI Cameras?
By leveraging advanced Artificial Intelligence capabilities, AI Cameras are capable of accurately distinguishing between vulnerable road users and road furniture or stationary vehicles, thus exceeding the performance of an average sensor detection system.
Not only does this solution vastly increased precision by removing false positive detections, but it also helps to prevent drivers from becoming disengaged due to false alarms. With deep learning algorithms, AI Cameras identify pedestrians in real-time, immediately alerting the driver when a pedestrian enters the blind spots of the vehicle.
Handsfree Group currently provide a range of AI Camera solutions that encompass front, side, and rear capabilities. These 1080P cameras are equipped with adjustable detection zones, which alert the driver (visually and audibly) of pedestrians, cyclists, and motorists within the vehicle's vicinity. These detection zones are hidden from the drivers view for an optimal field of vision, but can be superimposed onto the high-definition video output.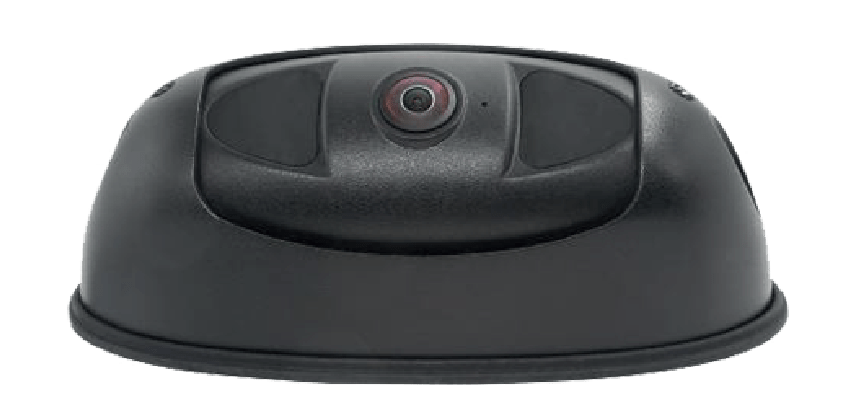 Front, Side, and Rear AI Camera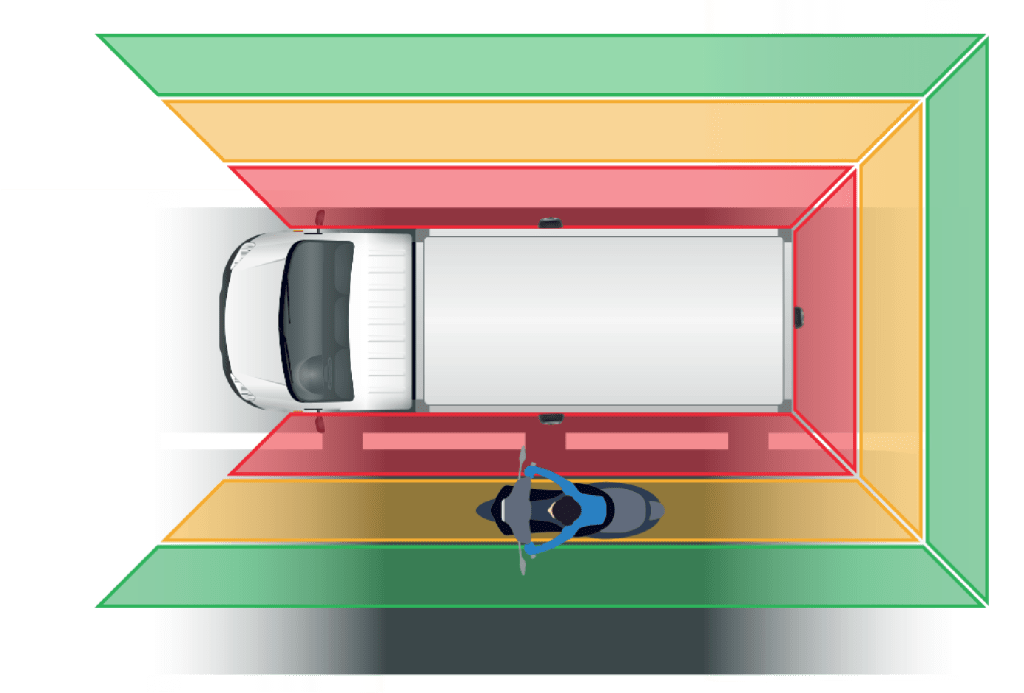 Detection Zones
Download the specification sheet here.
How Can Handsfree Group Help?
With 20 years of experience supplying and installing safety technology into some of the largest transport and logistics fleets across the UK, Handsfree Group are ready to assist with your DVS compliance.
Is your fleet prepared for the upcoming changes? Discuss your requirements with our team. Call us today on 0161 864 6440 or email us at sales@handsfree.co.uk
Want to read more about the latest proposed changes to DVS and the HGV Safety Permit Scheme? Visit the Transport for London website here.