After the past couple of years of online exhibitions, it has been a pleasure to return to face-to-face interactions this year, as our team exhibited at UKIFDA in Liverpool and the Road Transport Expo in Warwickshire. Handsfree Group also attended the Commercial Vehicle Show in Birmingham, where our team walked the floor to meet with partners and clients.
"This year's exhibitions started with UKIFDA in Liverpool, the first live event in 3 years since the pandemic. The event presented a great opportunity to showcase the brilliant installation work we have completed for fuel companies in the industry, but also served to further develop our existing relationships with customers, such as J.W. Suckling Transport Ltd. and World Fuel Services.

The CV Show was a stark contrast from last year's event, with a much higher footfall. Although Handsfree Group did not exhibit this year, we took the opportunity to walk the floor, developing opportunities with new customers and suppliers. The show also presented an opportunity to support our sister company CKO, who were exhibiting.

Finally, the year's exhibitions ended with the Road Transport Expo. This was the debut year for the show and although the footfall was lower than expected, the quality of customers and suppliers was high. The show had over 170 exhibitors from across the truck industry and gave us chance to interact directly with customers and fleet vehicles that were on show. We look forward to exhibiting next year, as we expect that the show's popularity will increase with time."

George Mears, Business Development Manager at Handsfree Group.
At the exhibitions this year, we presented our innovative vehicle communication, safety, and security solutions; separated into our four divisions of TECh, Install, Datalive, and Handsfree R5.
Our TECh division encompasses our latest vehicle technology solutions to ensure your fleet of safety, compliance, and efficiency. Handsfree Group offer a range of products, from Fixed Cab Phones, Onboard Weighting, DVS Kits, to Locks and Alarms. All these products, and more, can be installed nationwide by our FCS1362 FITAS accredited engineers through our Install service.
Our Datalive software – consisting of Telematics, Fleet Management Tools, and Live CCTV – helps fleet managers to maintain high standards of professionalism and reliability across their fleet, improving the protection of their drivers and vehicles.
Finally, our Handsfree R5 Fixed Vehicle Device for mission critical communications and public safety was displayed on our stand, along with its associated accessories. The device will be exhibited at the Emergency Services Show in Birmingham later this year with our dedicated R5 team, on the 21st until the 22nd of September 2022.
Thank you to everyone that visited our exhibition stands and met with our team over the last couple of months. We look forward to developing our relationships, and meeting with you next year.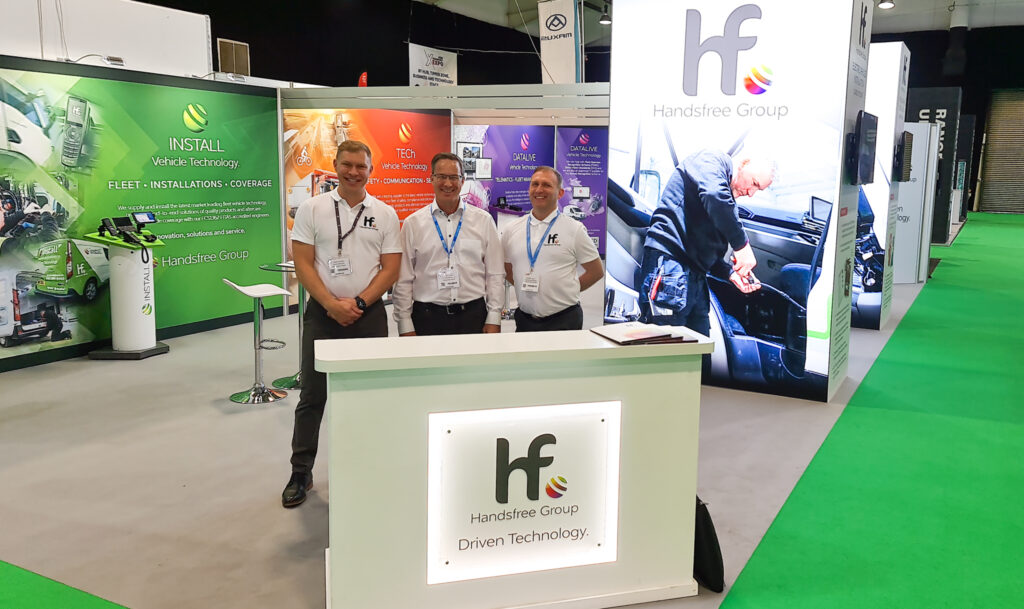 Take a look at a few examples of our great projects completed this year:
View our DPD Electric Vehicle Solution Case Study here.
View our J.W. Suckling Transport Fixed Cab Phone Solution Case Study here.
Have a project in mind? Call today to discuss your requirements with our team, on 0161 864 6440