Following a series of substantial road blockages and accidents caused by HGVs, the Local Government Association (LGA) has warned of the implications of using standard car satnavs for route planning instead of specialist equipment.
There are roughly five incidents of HGV bridge strikes per day across the UK, resulting in an estimated cost of up to £13,500 per incident in bridge repairs and compensation. On top of this, there are significant losses to the company through undelivered goods, risks to the safety of other road users and pedestrians, and disruptions to the local area. These incidents cause major congestion on roads resulting in an increase in emissions, and often disrupt local rail services.
Within the past year, there have been multiple instances of crashes caused by HGVs following inappropriate routes down narrow roads and towards low bridges. In May 2022, a lorry crashed into a bridge in Leicestershire spilling hazardous materials onto the busy carriageway. This incident required the assistance of Fire and Rescue, Police, Ambulance, and Highway Services to clear the wreckage, dispose of the hazardous materials, and assess damages to the bridge, leading to the road being closed for 12 hours.
As HGV mileage increases to above pre-pandemic levels, the LGA are calling for urgent action against standard car satnav usage, advocating for specialist equipment to become a requirement as part of the forthcoming Transport Bill.
What do specialist satnavs have to offer?
Specialist satnavs offer advanced route planning capability that can easily reduce the risks incurred from travelling via unsuitable routes. These products allow users to input the weight and dimensions of their vehicle. The device then calculates the best route to avoid restricted or impassable areas, based upon the vehicle's characteristics. Handsfree Group are here to help – we have been working closely with multiple companies across the UK to equip their fleet with specialist Satnav solutions.
The Garmin dēzl™ LGV Series allows you to input the vehicle type and characteristics to ensure that the appropriate route is mapped for your vehicle's dimensions and weight. Our most popular product, the Garmin 7" Satnav, includes premium mapping, live traffic updates, voice-controlled navigation, Bluetooth hands-free calling, advanced connectivity features, and more – with a powered magnetic mount for secure attachment and easy removal of the device from your vehicle. An optional Lockable RAM Mount is also available for additional security. You can view and download the Garmin 7" Satnav product specification sheet here.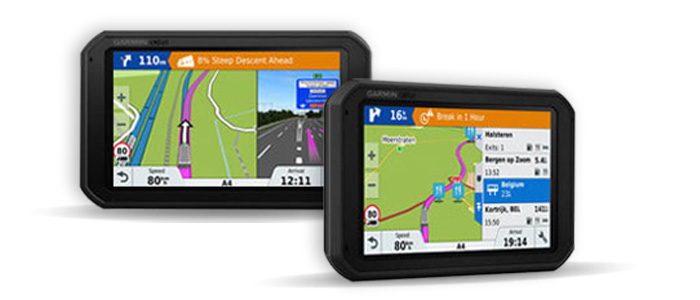 Here at Handsfree Group we supply and install the latest vehicle technology, such as the Garmin dēzl™ LGV Series, ensuring your fleet of safety and compliance. With nationwide mobile coverage, our team of FCS1362 and FITAS accredited installation engineers come directly to you.
Want to find out more? Call our team today on 0161 864 6440.