As part of our Environmental, Social, and Governance commitments, we take great pride in our active support of college students within our local community; giving them the opportunity to learn the innerworkings of a business first-hand. Thus, Handsfree Group had the pleasure of welcoming Archie Steed to our Manchester office and warehouse for one week of work experience.
What is your background?
I am Archie Steed, a lower sixth student at Lymm High School where I am currently studying A-Level Maths, Geography and Business. I like to socialise and play football. Every week, I participate in two teams; one of which is the Premier Division 'Lymm Piranhas', which is a team I am extremely loyal to having played for them all my life. Additionally, I have a part-time job at McDonald's where I enjoy working with my friends and colleagues to deliver an excellent service.
Why were you interested in undertaking work experience at Handsfree Group?
I was interested in the opportunity to work at Handsfree Group UK because I have met a number of the leadership team. They are all so friendly and enthusiastic about their business, their products and services, and their people, so I was keen to learn more.
What departments or topics were you interested in before visiting Handsfree Group?
Fascinated by Finance and Sales, I have a keen desire to understand how a business makes a good profit. I thoroughly enjoy speaking to people and negotiating. Additionally, finance is a strong subject for me that I am keen to develop.
What did your schedule consist of?
Day 1
First, I learnt about the critical communications product, the HANDSFREE R5. I learnt how the team work together and what they do.
I was then lucky to be involved in a People Strategy meeting about employee engagement. Afterwards, I spent time with the Sales Director and Sales Manager and learnt more about the company's products and installation services, and how to sell them.
Lastly, I went back to R5 team where I had a call with a Senior Manager who talked about different career paths, including the private industry and the Armed Forces.
Day 2
I spent the morning in the warehouse learning about how the warehouse is organised, and how they support the engineers in selecting the right technology and equipment for them to complete an installation. Then, I had a call about the Datalive Software, which is a modular software tool developed by Handsfree Group that helps fleet managers improve the efficiency, protection and safety of their drivers and vehicles, as well as their fleets green credentials.
Next, I visited purchasing and learnt how they decide when to place orders. And finally, I learnt about how marketing supports the sales team.
Day 3
I spent the morning with the Head of Operations, who showed me how the company uses a CRM called Salesforce to organise activity, resources, and track revenue.
Then, a senior engineer talked me through how he ensures the work quality meets Handsfree Group's high standards. For my final hour, I was lucky to spend time with the CEO Scott Cassell who really helped me understand profit margins, the difference between margins and mark ups, and how this impacts the business. This was really beneficial to me.
Day 4
Starting off with the finance team, I was shown how each member of the team collaborate to ensure all finances balance. Finally, I spent time with the Service Deliver Manager who explained how the team pulls together to ensure Planning, Projects, and Customer Service support the engineers and look after Handsfree Group's customers. 
Day 5
I was very lucky to spend valuable time with the MD Matthew Johnson who talked me through his career path, how to run a business, and gave me a thorough education about their critical communications device, the HANDSFREE R5.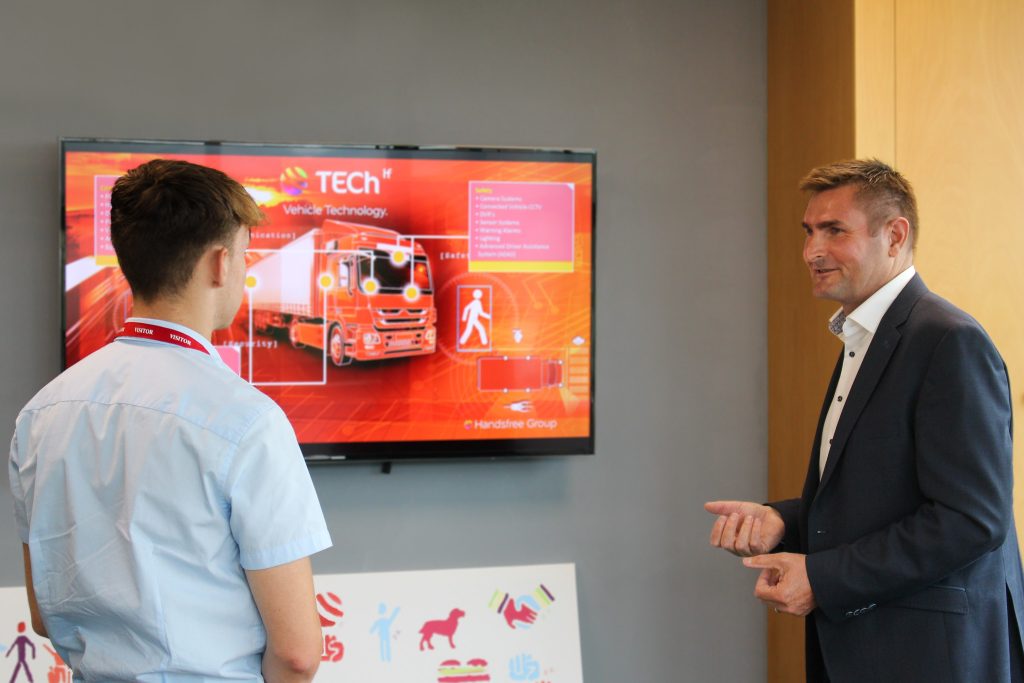 What was your impression of the Handsfree Group team?
I felt extremely welcomed as soon as I arrived. The whole team took their time to involve me in their day, to explain their role and its value to the business, and were extremely enthusiastic and inclusive. I was so lucky to spend time with each department, all of whom gave me a detailed explanation of what they do on a day-to-day basis.
What did you enjoy most about you time with Handsfree Group UK?
I felt very lucky to spend quality time with a lovely team who are really dedicated to one another and the company mission. The week was invaluable, as the knowledge and experience I gained of owning and running a business was exceptional. Thank you, Handsfree Group.
Want to find out more about our last intern week? Read our previous blog post "Day in the Life at Handsfree Group" here.