Handsfree Group were delighted to welcome onboard Nathaniel Read from Xavierian College in Manchester, who joined us for one week to learn the ins and outs of our business. He spent time with each department to gain an understanding of our innovative vehicle technology, software, and installation services, and how we support our valued customers behind the scenes.
What is your background?
I am currently a student at Xaverian College in Manchester, studying A-Level Biology and Double BTEC Sport Extended Diploma. I also partake in the Basketball Academy that they run at Xaverian, which collaborates with The Manchester Giants. I have been playing for this team for almost 6 years and began playing basketball at Canon Slade High School when I was 13.
Why were you interested in undertaking work experience at Handsfree Group?
During High School, COVID unfortunately shut down many businesses and made me miss out on opportunities for work experience. Since then, I have always looked for a great experience that I would be able to partake in to gain practical skills that can be applied to future jobs. I have been in contact with the CEO of Handsfree Group for several months, but only recently spoke about my plans for the future and was kindly offered this experience. I couldn't say no, as it was the perfect opportunity I was looking for.
What departments or topics were you interested in before visiting Handsfree Group?
I was most looking forward to Accounting and Sales. I have always loved watching a salesperson on the phone. There is an art to it; a specific way a salesperson will change the way they speak depending on who they are speaking too. I have always found it very fascinating and would love to be able to learn the skill.
What did your schedule consist of?
Day 1
On the first day, I spent all morning in HR with Rachel Agate where I was given a huge run down on the business, including what to expect and what they expected of me. I was taught about the policies in the workplace and the importance of being inclusive and friendly to everyone. I was shown around the building and introduced to the team.
Around lunch time, I was given a demonstration by Simon Shaw of the R5 Fixed Vehicle Device for critical communications and got a great understanding of the UI Panel that controls the equipment. For the rest of my afternoon, I spent time with Natalie Fatorechi and Amy Welsby in Accounting. I was able to see the cash flow through the business which has always fascinated me, and I saw the software that they used to keep track of all the finance.

Day 2
I spent my day with George Mears in Sales which was one of the best days. I got to see how the actual money is made for the business and gained a brief understanding of the software they used. I learnt the difference in conversation when following up on a potential lead versus speaking to a repeat customer. I also learned about the three pillars of Handsfree Group, which are software, hardware, and installation services.

Day 3
Today I visited the Warehouse to see the real behind the scenes of how goods are received and organised. I completed many tasks, including finding items in the warehouse and packaging them up to put into engineers' pigeonholes, to then be taken by the engineers for installations.
In the afternoon, I got to spend time with the Datalive team (Phil Smyth and Zac Sowter) which gave me a good understanding of the Datalive software system and what it is used for. It was very cool to see CCTV footage of vehicles, as well as tracking information. I got to see Zack working to support customers with enquiries and how they investigated any potential errors with the system. Software development was also a big part of their roles, so they gave me a rundown of the updates that need to be made in the future.

Day 4
I spent the full day in Marketing with Lorna Gilbert and gained an understanding of the different types of marketing that they use. I learnt the effectiveness of social media platforms for promoting Handsfree Group's products and services, and for interacting with their customers. I also learned how to create posts on social media, and the best methods for increasing engagement.

Day 5
I spent today with the Planning and Customer Service teams, led by Jess Elliot. I learnt how to raise inventory requests, what kit is needed for certain installations, and how to request an installation which is then scheduled depending on the availability of our engineers and the customer.
What was your impression of the team at Handsfree Group?
I felt very accepted and appreciated by the whole team in my week experience; I was welcomed into all the departments and was treated well. The team gave me great explanations of all the questions I asked, as well as descriptive detail about their own personal job roles.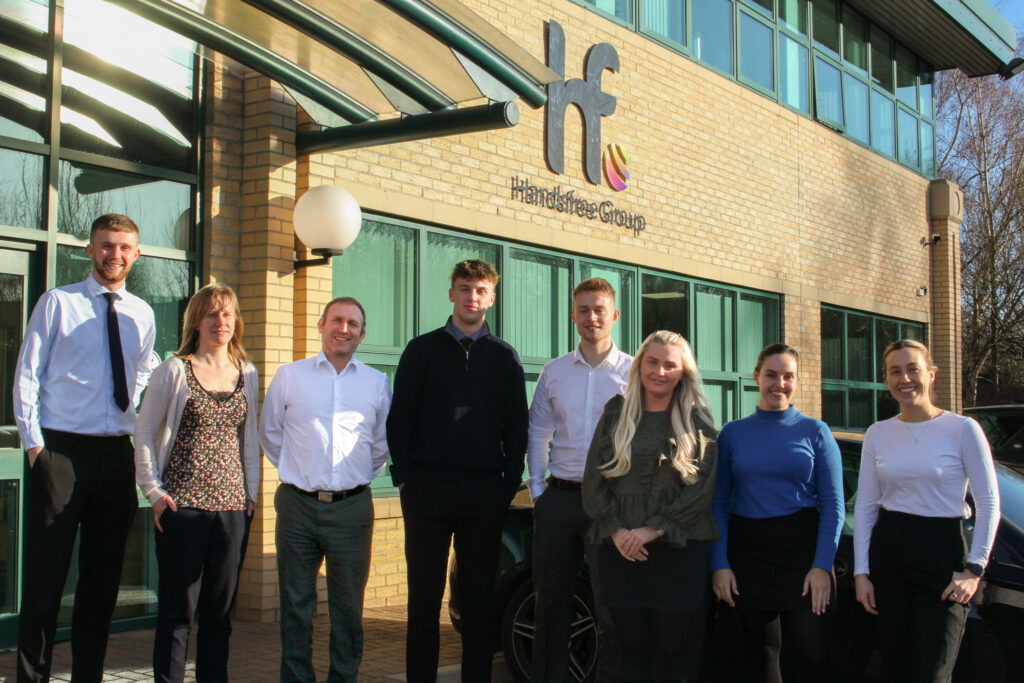 What did you enjoy most about your time with Handsfree Group?
I enjoyed all the experience I gained from Handsfree Group, but I definitely enjoyed Sales the most, as it gave me a good overview of how to find potential leads through cold calling. It made me determined to learn more about sales, as it looked enjoyable.
What did you find the most challenging?
Accounting was the most challenging. They only gave me the basics at first, so I asked a few follow-up questions about VAT. That's when it started getting difficult. I have never had any experience in actual accounting before, but I loved learning about profit, loss, and the balance statements.
What did you learn from our team?
I learnt great practical skills and real-life experience of what it is like to work in a professional environment. It has helped me to develop my time management, teamwork, communication, and problem-solving skills, as well as my professionalism.
How has your time with Handsfree Group influenced your future career goals?
This experience has shown me that I have a great passion for Sales. Therefore, I will put more of my time and effort into developing my sales skillset. It has also shown me a much more detailed insight to how a business should be run, and I now understand what knowledge I need to gain to run my own business.