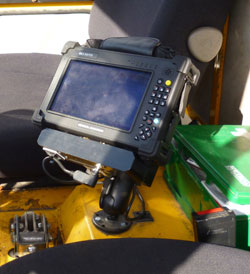 Handsfree were given a simple yet challenging task of providing the solution for a fleet of road sweepers that are cleaning the streets of London and providing municipal service support to the Olympic Games. Handsfree provided the concept, design, hardware and installation solution that resulted in a system that is simple, effective, scalable and future proof.
If you would like more information on our concept to delivery installations including bespoke manufacturing and software development please feel free to contact us.
Summary
Keeping the streets of London clean during the Olympic Games was the challenge Handsfree was given by a London Borough Council. Supplying municipal support to the Olympic Games is a big undertaking so Handsfree supplied and installed a solution that delivered.
Key Challenges
Provide a rugged tablet PC – a powerful windows XP rugged device that would be used in and out of a vehicle in dusty, dirty and damp environments.
3G wireless capabilities –a job management application with two way un-interrupted 3G communication.
In-vehicle charging dock –a robust charging dock that locks the device in-place and provides constant power.
Solution
Handsfree choice is the GD Itronix 3070 with Handsfree charging dock and mount. The 3070 has windows XP with wireless 3G capabilities and a hardened magnesium alloy casing with a shock resistant mounting.
Key Benefits
Real-time job management via 3G internet.
Reduces voice calls back to the office.
Increases staff productivity